MUSCLE EXERCISES DIRECTORY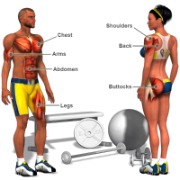 Having the right muscle exercises is one thing...Having the muscle building coach is everything...CLICK RIGHT PICTURE
MEET COACH Sy Muscle exercises directory
Learn how to perform all muscle exercises safely with our exercise demonstration videos. This growing database is packed full of over 100 demonstration videos covering all the major body part plus we give you some helpful hints and tips along the way.
There's no more guess work involved with our quick and easy tutorials , no more being unsure of how to perform an exercise in the gym.
Just click on one of the body parts listed below ,then click on the exercise you want to watch. In less than 30 seconds you will know how to perform that exercise safely.
IMPORTANT NOTE We would like to stress the importance of using good form when performing any exercise from our database. Good form should always come before the weight being used. Not only will you work the muscle better, you will also stay injury free. we also advise that you warm up before undertaking any exercise.
CLICK ON A BODYPART
BACK

TRAPS

SHOULDERS

CHEST

BICEPS

TRICEPS

QUADS

HAMSTRINGS

CALFS


The SYFIT MUSCLE BUILDING TEAM HAS ALSO CREATED A TRAINING SYSTEM CALLED SFX (SYFIT X)
Click on the link to see why this system induces such strength and muscle size. THE MUST READ SYFIT X TRAINING SYSTEM REPORT


THE SYFIT X EXERCISE DEMONSTRATION VIDEO PAGE

RETURN FROM MUSCLE EXERCISES TO THE ONLINE WORKOUT AND NUTRITION PACKAGES