SHOW ME A HAMSTRING SHOT PUTS DEMONSTRATION VIDEO
OCTOBER 2010 EXERCISE OF THE MONTH
NOVEMBER 2010 EXERCISE OF THE MONTH

DECEMBER 2010 EXERCISE OF THE MONTH

JAN 2011 EXERCISE OF THE MONTH

FEB 2011 EXERCISE OF THE MONTH
**NEW EXERCISE!!**NEW EXERCISE!!**


We want you to give this exercise the thumbs up or thumbs down....WATCH IT...TRY IT...REVIEW IT...Click here to go to the review page


MEET THE COACH


HAMSTRING SHOT PUTS: At the begining of 2010 I stumbled upon a new exercise I called The Hamstring Shot Puts, this was while training my quads. Funny thing was that I had set out to do some single leg dumbell squats instead as my lower back was feeling rather tight from a heavy deadlifting session.
After the 10th rep I quickly dropped the weight narrowly missing my toe, then grabbed my glute which along with the hamstring tie ins were burning like hell. The one thing apart from the intense burn I noticed was that although the quads were activated throughout the exercise, they did not burn or fatigue at all.
For the rest of that session I forgot all about training quads and worked on perfecting the new exercise.
DON'T KNOCK IT BEFORE YOU TRY IT
HAMSTRING SHOT PUTS TIPS.
Step 1. Stand to the side of a upright bench as you will be using it for support. The exercise can also be performed standing about 1.5-2 feet behind the bench.
Step 2. Grab a light dumbell in your left hand and rest your right hand on the supporting bench.
Step 3. Stand on your right leg with your back straight and your left foot off the ground, slightly in front of your body. ( this is the starting position of the exercise)
Step 4. Lower yourself down slowly till your right leg is at a 90 degree angle and the dumbell is near to the ground. Your left leg should travel straight behind you like the old shot put movement.Do not be afraid to go as low as you can but be always mindful that your trailing leg should be as far back as you can get it.
Step 5. When traveling back to the starting position make sure that the trailing leg follows through to the bent position in front of the body. It is very important to contract your working glute muscle before starting the next rep.
I would recommend doing 15- 25 reps per leg, that should get you gripping your arse with a " oh that burns!!" at the end of every set. Once you have mastered the technique work yourself up in weight.
while performing the Hamstring Shot Puts I have come to relize as with all exercises, form outweighs the weight being used.



move to the hamstring shot puts review page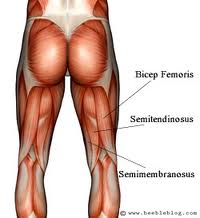 A few people looked at me kind of strange in the gym, which is nothing new, but over the weeks more and more people were asking me about the exercise and trying it out for themself.
I asked 1 fitness competitor and a bodybuilder to incorporate this exercise on hamstring days for 10 weeks and let me know the results.
The fitness competitor reported that she felt by hitting the 15-25 rep range, using a light weight helped her to lift and tighten her butt.
The bodybuilder looked at me with a sidewards glance, totally unsure and full of skepticism when I showed him the exercise but promised me he would use it for 10 weeks. His rep range was slighty lower, doing no more than 15 reps per set. He reported back that he felt he had fuller glute/hamstring tie-ins. He also mensioned that his glutes felt like rock.
HAMSTRING SHOT PUTS ADVANCE...THIS COULD BE YOUR HAMSTRINGS/GLUTES WORSE NIGHTMARE
MUSCLE FORM AND FUNCTION
PRIMARY MUSCLE..HAMSTRINGS/GLUTES
SECONDARY MUSCLES...QUADS
EQUIPMENT NEEDED...DUMBELL
MECHANICS TYPE...COMPOUND
---
HAMSTRING SHOT PUTS ADVANCE...COULD BE YOUR HAMSTRINGS AND GLUTES WORSE NIGHTMARE
---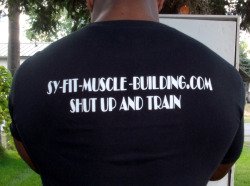 I'M GOING TO PUSH YOU TO YOUR MUSCLE BUILDING LIMITS, CLICK RIGHT PICTURE AND I'LL SHOW YOU HOW!!
---
move to the hamstring shot puts review page
---
return from hamstring shot puts to the exercise demonstration video main page
---