MUSCLE BUILDING SUPPLEMENTS IN'S AND OUT'S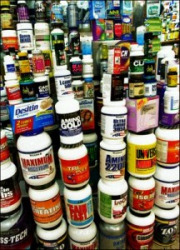 What is it about muscle building supplements that has us dipping our hands into our pockets? Is it the full page color ads? or is it that finely tuned sales chat smoothly layed in the mags that bellows "this product is the best thing since sliced bread." What ever it is that has us spending our hard earned bucks, one thing is for sure..NOT ALL PRODUCTS ARE CREATED EQUAL!!
Over the next few months we will review some muscle building products and score them out of ten, we will also be asking for your imput on what works and what does not.
Also for the new muscle building cats we will offer some gym supplement advice, stay tuned, book mark this page, add us to your favorites or even subcribe to our website by clicking the RSS button under the navigation tab. BUT..... whatever you do, DON'T MISS OUT!!
Our advice is optional, it's not the final word on the subject and only given as advice. There are many options and points of view.
Please check with a qualified health care professional before taking any product if you are pregnant, nursing a baby, under 18 years of age, or if you have any known suspected medical conditions and stroke or are taking any prescription or OTC medication(s).
---
---
KICK BACK AND CHECK OUT THIS GREAT READ!!
1...How important is vitamins for muscle building? check it out!!

2...Ten most important Bodybuilding vitamins.Do you know what they are?

3...Muscle Building Power of Vitamin C...must read!!

4...How important is Postworkout nutrition?

5...BETA- ALANINE PRODUCT REVIEW

6...THE INSIDE SCOOP ON MUSCLE BUILDING SHAKES

7...MUSCLE BUILDING SUPPLEMENTS FOR WOMEN

8...L-GLUTAMINE...ALL YOU NEED TO KNOW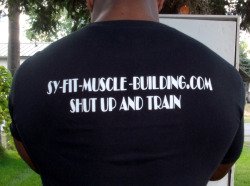 TURN MUSCLE BUILDING SKEPTICS INTO BELIEVERS...CLICK RIGHT PITURE!!
return from muscle building supplements to hardgainer 1-2-1