SHOW ME QUADRICEPS MUSCLE BUILDING DEMONSTRATION VIDEOS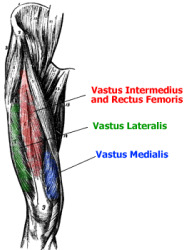 Quadriceps muscle building: The Quadriceps are a group of four muscles that sit on the anterior or front aspect of the thigh.
The quadriceps commonly referred to as quads are the largest and most powerful muscle in the human body.
They are the Vastus Medialis, Intermedius and Lateralis and finally the Rectus Femoris.
The Vastus Medialis originates from the lower intertochanteric line spiral line and inserts into the medial quadriceps tendon. Its main function is to extend the leg the last 10%.
The Vastus Lateralis is the largest muscle of the quadriceps femoris. the main functionof this muscle is to extend your knee from the bent position.
Rectus Femor is also one of the four quadriceps. Its located in the middle of the front quad. Its main function is also to straighten the leg.
The Quadriceps attach to the front of the tibia and originate at the top of the femur. The exception to this rule is the Rectus Femoris which actually crosses the hip joint and originates on the pelvis


DEMONSTRATION VIDEO LIST
---
---
CROSSED LEG HACK SQUATS
---
---
---
LEG EXSTENSIONS
---
---
---
return from the quadriceps muscle building page to the exercise demonstration main page
---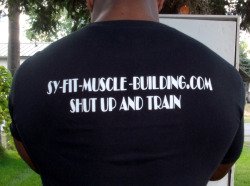 GET PUSHED TO YOUR LIMIT, ONLINE MUSCLE BUILDING COACH...CLICK RIGHT PICTURE