SHOW ME TRAPEZIUS MUSCLE BUILDING DEMONSTRATION VIDEOS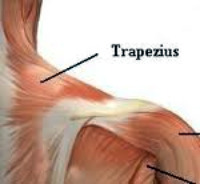 Trapezius muscle building: The trapezius muscle is divided into 3 areas: upper fibers
middle fibers
lower fibers.
The significance of this division lies in the variety of functions performed by this muscle. Functions of the Trapezius Muscle: The trapezius muscle has several functions: to move the shoulder blade in toward the spine to rotate the shoulder blade so that the topmost part of the upper arm faces up to move the shoulder blade up and down to bring the head and neck in a backward direction to rotate and side bend the neck to assist in breathing The Effects of the Trapezius Muscle on the Neck: Because the trapezius muscle works to move the neck in several directions, its degree of tightness or looseness affects neck flexibility.
DEMONSTRATION VIDEO LIST
Choose from the Trapezius exercise list below to watch the demonstration video.
---
STANDING BARBELL SHRUGS (FRONT)
---
---
---
---
return from trapezius muscle building to the exercise demonstration page
---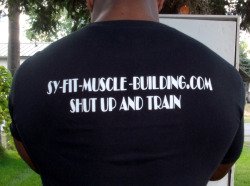 I WANT TO PUSH YOU TO YOUR MUSCLE BUILDING LIMITS, IF YOU CAN HANDLE IT CLICK THE RIGHT PICTURE