SHOW ME TRICEP MUSCLE BUILDING DEMONSTRATION VIDEOS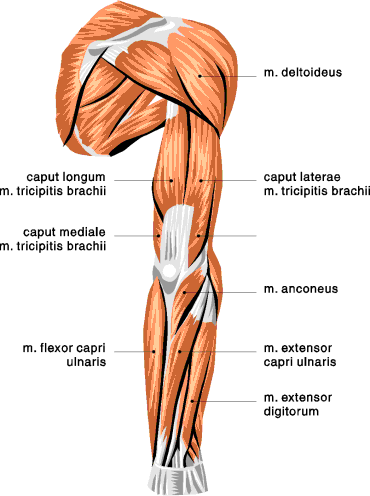 TRICEP MUSCLE BUILDING: It is called a three headed muscle because there are three bundles of muscles, each of different origins, joining together at the elbow. Though a similarly-named muscle, the triceps surae, is found on the lower leg, the triceps brachii is commonly called the "triceps".
The triceps can be worked through either isolation or compound elbow extension movements, and can contract statically to keep the arm straightened against resistance.
Isolation movements include cable push-downs, lying triceps extensions and arm extensions behind the back. Examples of compound elbow extension include pressing movements like the push up, bench press, close grip bench press (flat, incline or decline), military press and dips. A closer grip targets the triceps more than wider grip movements.
Static contraction movements include pullovers, straight-arm pulldowns, and bent-over lateral raises, which are also used to build the deltoids and latissimus dorsi.
Elbow extension is important to many athletic activities. As the biceps is often worked more for aesthetic purposes, this is usually a mistake for fitness training.
While it is important to maintain a balance between the biceps and triceps for postural and effective movement purposes, what the balance should be and how to measure it is disputed. Pushing and pulling movements on the same plane are often used to measure this ratio.


TRICEP DEMONSTRATION VIDEO LIST
---
OVERHEAD TRICEP ROPE EXTENSIONS
---
---
SEATED ONE ARM DUMBELL EXTENSIONS
---
---
---
---
---
---
REVERSE CABLE TRICEP EXTENSIONS
---
---
LYING BARBELL TRICEP EXTENSIONS ONE ARM CABLE TRICEP EXTENSIONS
---
return from tricep muscle building to the exercise demonstration video main page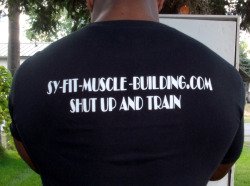 BIGGER MUSCLE BUILDING RESULTS...click the pictur above