SHOW ME A HYBREAD TRICEP PUSHDOWNS DEMONSTRATION VIDEO
PRIMARY MUSCLE...TRICEPS
SECONDARY MUSCLES...CHEST, SHOULDERS
EQUIPMENT NEEDED...OVERHEAD PULLEY CABLE MACHINE
MECHANICS TYPE...COMPOUND
HYBREAD TRICEP PUSHDOWNS TIPS
This exercise is a hybread of close grip bench press and works the same part of the tricep.
Step 1. Place a close grip bar on the lat pulldown station, then pick your weight. I would advise that if it is the first time that you are performing this exercise, start with a light weight until you get use to the movement.
Step 2. Place your hands on the bar with your nuckles facing each other. Step back and pull the weight down to chest height where you will start your first rep.
Step 3. At the start of the exercise make sure that your elbows are flared out either side. With the bar being at chest level push the bar down past your waist so that your arms are straight. Always exhale on the hard part of the hybread tricep pushdown and inhale as you raise the bar up to the start of the exercise.
---
return from the hybread tricep pushdowns to the exercise demonstration main page
---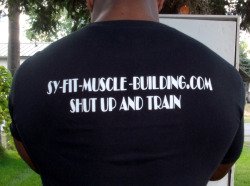 DREAM IT, BELIEVE IT, DO IT!! click picture