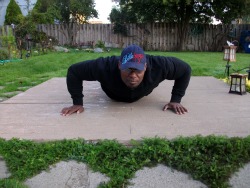 BUILDING MUSCLE WITH NO WEIGHTS PART 1: CAN IT BE DONE?
Building muscle with no weights part 1, who the hell would want to do that some may ask. Muscle building without weights can it be done?
YES building muscle with no weights can be done although it is a longer process where you would have to use a lot more imagination than you would use in the gym.
There are many reasons why someone may choose to muscle building with no weights. Time and money can be a huge factor. Having commitments and reasonability's can quickly make a gym membership a waste of money.
If you can't get to the gym no sweat, time to make a gym out of your living room floor, the local park and even the back yard.
WHAT KIND OF TRAINING CAN I DO?
There are various different exercises and training styles one can use to have a great workout here are a few listed below.
Body weight training. This where you train with just your bodyweight.
Isometric training Isometric exercise or isometrics are a type of strength training in which the joint angle and muscle length do not change during contraction (compared to concentric or eccentric contractions, called dynamic/isotonic movements). Isometrics are done in static positions, rather than being dynamic through a range of motion. The joint and muscle are either worked against an immovable force (overcoming isometric) or are held in a static position while opposed by resistance (yielding isometric).
Slow motion training Your full repetition is broken down into many parts, where you move 3-4 inches then hold for 2 seconds and continue this process throughout the repetition.
One arm training If your doing upwards of 50 reps during a set of pushups you may want to try using one arm at a time.
One leg training. Doing one legged squats makes the exercise much more difficult.
Repetition counts We will use pushups to explain this technique although you can use any exercise. Rep 1, hold the bottom position for 1 second, come up and hold the top position for 1 second. Rep 2, hold the bottom position for 2 seconds, come up and hold the top position for 2 seconds. Do this until you reach 5 full reps and then do 5 normal reps to complete the set.
Click the links below to see a Upper body and Lower body workout video without weights. We will explain each exercise and also give you tips and hints for a more advance workout.
UPPER BODY WORKOUT WITH NO WEIGHTS

LOWER BODY WORKOUT WITH NO WEIGHTS

return from building muscle with no weights to the gym muscle building main page

HOME SWEET HOME