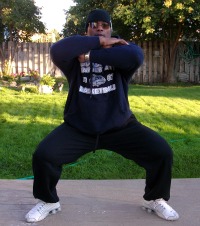 BUILDING MUSCLE WITH NO WEIGHTS PART3: LOWER BODY WORKOUT
Building muscle with no weights part 3 for the lower body. This goal is achievable with a little drive and determination . We will show you how to get the best out of your lower body with our exercise video and maybe over time you will be able to add some exercises of your own.
LOWER BODY DEMONSTRATION WORKOUT VIDEO
Here are a list of lower body exercises for building muscle with no weights
Sissy Squats ( building muscle with no weights part 3)
These are anything but sissy and can be used at the beginning and at the end of the same workout. The sissy squat will activate the whole of your quad muscle from above the knee cap to the outer upper area. We would advise a rep range of 15 reps. The art of this exercise is to get up high on your toes and go as low down on each rep. Start with 2 sets of 15 reps at the beginning of your session and finish of with 1-2 sets at the end of your workout.
Hamstring Shot puts ( building muscle with no weights part 3)
This exercise will beat up your upper/lower hamstrings along with your glutes and will also activate part of your calf muscle too. It was featured in our exercise of the month and got a lot of positive feedback, click here to read all about the exercise .

Book Squats ( building muscle with no weights part 3)
The reason why this exercise is included is that it can be performed in 2 different ways to focus on either the quad muscles or the glutes and hamstrings. In the video you will notice that instead of driving straight up, I am pushing out on the way up, this throw the emphasis on the hamstrings and glutes. Perform 2 sets of 15 reps in this fashion and 1 set of 15 reps driving straight up for the quads.
Crab Knee Lifts ( building muscle with no weights part 3)
Great exercise which works the lower back, hamstrings and glutes. The secret to this exercise is to keep the glutes as high as possible throughout the exercise. Start with 2 sets of 10-15 reps per leg. We also have an advance crab knee lift exercise video below for those of you who find the first exercise just too easy.
Static Quad Bend( building muscle with no weights part 3)
Excellent exercise to finish of any lower body workout, this will also test your metal too. Sit with your back flat against a wall and your knees at a right angle. Hold this position for 30 seconds or until you start to slide down the wall. Once you have reach the 30 second mild stone you can push this up to the 1 minute mark.




return from building muscle with no weights part 3 to building muscle with no weights main page

gym muscle building main page

meet the coach

HOME SWEET HOME