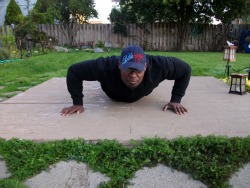 BUILDING MUSCLE WITH NO WEIGHTS PART 2: UPPER BODY WORKOUT
Building muscle with no weights main page


BUILDING MUSCLE WITH NO WEIGHTS PART 2: UPPER BODY WORKOUT:
So you want to start building muscle with no weights…GOOD!! Below is a Upper Body workout video for beginners. This workout can be used 2-3 times per week starting with one set of each exercise and then working up to 3 sets per exercise. Once you have reached that level you may like to include advance training techniques described on the Building muscle without weights main page





BUILDING MUSCLE WITH NO WEIGHTS PART 2
One Arm window Sill Press.
Great exercise for triceps, although this will hit the shoulders, chest and upper back. Start with 6- 8 reps and when you have mastered 12, move on to slow motion reps for building muscle with no weights.
Cliff Scalers.
Tough second exercise but one worth doing if you like that intense burn in your triceps, chest and front shoulders. Start with doing this exercise for 30 seconds, then move up to 1 minutes and if you are brave enough 1.5 mins or 3 sets of 1 minute Scalers. Great exercise to include when building muscle with no weights
Swan dives
This throws everything on the shoulders an upper chest, triceps will not get left out of the mix. Get yourself up to 10 reps on the first pit stop and then move up from there.
Close Grip Window Sill Press
This would be like doing close grip bench press in the gym. A great exercise for hitting the inner chest and outer triceps areas. Great as a pumping, get the blood flowing kind of exercise
Incline Pushups
Hits that hard to reach area of your upper chest. The wider your arms are apart , the more it will hit the shoulder area. The closer the grip the more likely it will hit the inner upper chest.
Chin Ups.
Great Old School exercise for the back area, change the grip and your hitting the biceps flush. Work your way up to 15 reps, then try some advance training on this exercise.
return from building muscle without weights to the building muscle without weights main page

building muscle with no weight part 3: lower body workout, click here