SYFIT X PART 2....BUILD MUSCLE 2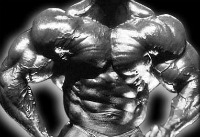 READ PART ONE BEFORE YOU READ THIS
SYFIT X..BUILD MUSCLE 2
Why Does Isometric Training form Part Of This Set ?
BUILD MUSCLE 2 Isometric exercise or isometrics are a type of strength training in which the joint angle and muscle length do not change during contraction (compared to concentric or eccentric contractions, called dynamic/isotonic movements).
Isometrics are done in static positions, rather than being dynamic through a range of motion. The joint and muscle are either worked against an immovable force (overcoming isometric) or are held in a static position while opposed by resistance (yielding isometric).
Isometric exercises can be used for general strength conditioning and for rehabilitation where strengthening the muscles without placing undue stress on the joint is warranted. (build muscle 2)
Static training is different as the muscle is overloaded with weight at the top of an exercise (the strongest part of the movement) rather than isometric exercise where the muscle can remain static at the bottom of the exercise, thus working on the weakest part of the movement.(build muscle 2)
After returning from injury I quickly realized that I needed to tailor my workouts. I could no longer do certain exercises (due to and un-united ulna bone in my right arm) and other exercises were quite painful to perform. Over time I noticed that my training was going backwards and progress was next to zero.
I set about trying to find a system that would work for me. Its wasn't until I was performing Static training did I realize that I might be onto to something new and improved.
With a little more tinkering and lots more training sessions I came up with my own best muscle building programs. At first the focus was on strength through different parts of the movement to improve my overall strength.
Over a 6 week period I noticed that holding the weakest point of an exercise and then incorporating it into a normal set both increased my strength, muscular endurance and overall muscle mass.(build muscle 2)
IMPORTANT NOTE (build muscle 2)
BUILD MUSCLE 2
You may find that you will need to increase the weight on some exercises after you perform the isometric part of the movement and before you start the normal rep work to failure. This will place even more stress on the muscles being worked.
After a few weeks you can decide whether to take things a step further by introducing REST PAUSE TRAINING after the isometric phase of the set. The benefit would be that you overload your already fatigued muscle with more weight and repartitions, thus inducing more muscle growth. (BUILD MUSCLE 2) WE CHALLENGE YOU TO A WORKOUT YOU'LL NEVER FORGET....CLICK HERE
THE PEICE WHICH FITS YOUR MUSCLE BUILDING PUZZLE (build muscle 2)
BUILD MUSCLE 2 The beauty of the SYFIT X training system is that it fits right into any off season mass building phase.
For example, lets say that you are deep into your mass building phase and you are looking for a change up to keep the new muscle coming, you could do one of two things.
1... You could do a 2 week on 2 week off protocol, mixing and matching 2 weeks of straight heavy set workouts, followed by 2 weeks of the SYFIT TRAINING SYSTEM. This would benefit your muscles and keep them on edge, not being able to guess or get use to a set way of working out. ( do this for 8 spins)
2...You could also do 8 weeks of FST-7 training, followed by 8 weeks SYFIT X training, followed by 8 weeks of straight heavy training. Which ever way you look at it, your muscles won't quite know what hit them, but you will.
COMING SOON AND A HELL OF A LOT TO GET EXCITED ABOUT!!
SYFIT X FAQ PAGE
5 DAY TRAINING AND NUTRITION EXPLAINED
EXERCISE DEMONSTRATION VIDEOS
PUBLIC PAGE (QUESTIONS VIEWS AND REVIEWS)
BEST MUSCLE BUILDING PROGRAMS
THIS COULD BE YOUR HAMSTRINGS AND GLUTES WORSE NIGHTMARE...CLICK HERE


SIGN UP AND BE PART OF THE SYFIT X MOVEMENT
GET THE INSIDE SCOOP ON THE NEW SYFIT X TRAINING SYSTEM FIRST!!!..
THIS WEEK YOU'LL BE ONE OF THE FIRST TO HEAR ABOUT IT STRAIGHT FROM THE SOURCE….IN THE NEXT FEW MONTH'S THEY ALL WILL BE TALKING ABOUT IT ON THE BODYBUILDING FORUMS, YOU CAN BET YOUR BOTTOM DOLLAR ON THAT!!
GET AN ALL ACCESS VIP PASS TO THE HOTTEST INFORMATION…ONCE YOU SIGN UP YOU WILL GET ACCESS TO THE FOLLOWING
# THE SYFIT X FORUM…YOU GOT SOMETHING TO SAY? GIVE THE WORLD YOUR VIEWS AND REVIEWS( LAUNCH DATE TUES 26TH OCTOBER 2010)
#THE FULL SYFIT X EXERCISE DEMONSTATION VIDEOS (LAUNCH DATE WEDNESDAY 27TH OCTOBER 2010)
# THE SYFIT X TRAINING MANUL… WHICH WILL GIVE YOU INFORMATION ON HOW TO FOCUS ON WEEK BODY PARTS AND HOW TO PUT TOGETHER A SYFIT X TRAINING PROGRAM WHICH SUITS YOUR NEEDS. LEARN HOW TO INDUCE MORE SIZE AND STRENGTH (LAUNCH DATE FRIDAY 29TH OCTOBER 2010)
return frrom build muscle 2... to build muscle main page

BIGGER ONLINE MUSCLE BUILDING WORKOUT AND NUTRITION PACKAGES FOR BIGGER MUSCLE BUILDING RESULTS

HOME SWEET HOME