MUSCLE BUILDING AFTER SIXTY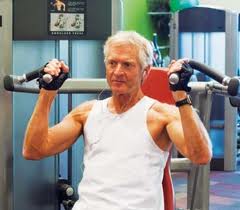 Muscle building after sixty and maintaining muscle, there is no reason why it can't be done. Its never too late to reap the health benefits of weight training.
The average person starts losing muscle mass about the age of 25. It's been estimated that as an adult, you can lose 5 to 7 pounds of muscle every 10 years ,the good news is that you can slow or even stop muscle atrophy through weight training and a good diet.
The principles of building muscle after sixty are much the same as building muscle at any age. Understanding how to build and maintain muscle after 60 is achievable when following a sound routine.
When young, the body's recuperates from workouts at a greater level and then slows down as you reach middle-age. This means that rest and recovery is vital when muscle building over sixty. MEET THE COACH
BENEFITS TO MUSCLE BUILDING OVER SIXTY

In addition building muscle over sixty improves your appearance by toning, firming and dropping body fat, adding more muscle also serves to protect you from injury in case of a fall.
Having more muscle tissue can also shield you from damage caused by a blow to a bone or internal organ.
You will boost your Self-Esteem and increase your confidence.
Have a better Appearance with better Health and Less Risk of Injury.
Increases bone density and reduces the risk of osteoporosis and fractures.
Calories burn more efficiently as we need muscle to burn fat.
A regular strength training program can improve sleep.
You will have More Energy and stamina throughout the day.
Aerobic activity and strength training are both important for health, we recommends that able adults do both on a regular basis; 20 to 60 minutes of aerobic activity is advised 3 to 5 days a week and weight training should be done for 20 to 30 minutes 2 to 3 times a week.
We also suggest that people perform stretching exercises -- which increase the range of motion, or amount of movement, of joints -- a minimum of 2 to 3 times a week.
SAMPLE TRICEP WORKOUT PLUS DEMONSTRATION VIDEOS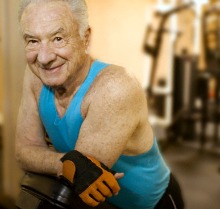 Below you will see a sample workout plan for triceps. This workout will help to firm, tone and build your tricep muscle. We advice that before you undertake any form of exercise that you consult with your doctor.
Please always remember to warm up the area you plan to train and finish your session with a warm down.



EXERCISE 1 TRICEP ROPE PUSHDOWNS


Stand with your feet shoulder stance apart.
Grab the ropes and keep your elbows tuck in while performing the exercise.
Inhale when you raise your forearms and Exhale as you push your forearms down.
Perform 3 sets of 10-12 reps.
EXERCISE 2 DUMBELL KICKBACKS
Bend over with your non exercise arm resting on you knee. Iif this becomes a problem you can bend over and lean on a exercise bench.
Take a dumbell so that your palm is facing your body. Extend your arm so it travels behind you. Please take care has not to jar your elbows by doing the movement too fast and hard.
Perform 3 sets of 10-12 reps with each arm.
Inhale when your arm is up by your body and Exhale as the weight travel behind you.
Bend over with your non exercise arm resting on you knee. Iif this becomes a problem you can bend over and lean on a exercise bench.
RETURN FROM MUSCLE BUILDING AFTER SIXTY TO HOME

Fitness Through Fasting is a growing collection of articles, tips and techniques for persons interested in fasting for quick weight loss, fitness, as well as increased health and vitality. Fasting and detoxification e-mail course and personal coaching available. Drop extra pounds fast!