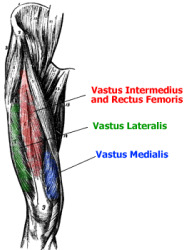 SHOW ME A QUICK QUAD WORKOUT FOR INTENSE MUSCLE GROWTH
Quick quad workout
You get to the gym knowing you only have 20 minutes to get a quad workout completed. Pushed for time you get to thinking about the options you have available.
3 options come to mind, but which one will you choose?.
Option 1...Train a smaller body part and come back to quads when you have more time, after all you hate training quads and always wear full length pants anyway.
Option 2. Skip training altogether as 20 minutes would never be enough time to train a body part. You feel that you need at lease 45 minutes and that's working at a faster past than you normally would travel
Option 3. Give your quads a quick fire workout.
Lets be honest when it comes to quad training we fall into 2 bands. Band 1, the people who love or hate quad training but would never miss a leg workout unless they were dead. Band 2, the people with a love hate relationship and would rather train chest instead.
The funny thing is that over the past few years I have noticed the best day to get a balls to the wall, no messing about leg workout is on a Monday, as every other gym rat is staying devoted to the international chest training day. This means lots of equipment to choose from with no waiting time involved. A 20 minute quad workout becomes a sure bet.
SMASHED AND MASHED IN UNDER 13 MINUTES
On my last quad workout I went against the grain and decided to hit 2 long sets using 5 different exercises. The 5 exercises were as follows. It is very important to spend at lease 5-10 minutes warming up with leg stretches and stationary biking
1. Leg Extensions
2. Leg Press
3. Front Squats
4. Walking dumbbell lunges
5.Leg Extensions Quarter reps.
On the last set I went a touch crazy traveling back and fourth between exercises, finally completing 8 or 9 exercise spins. It took all of 6 days for my legs to recover.
I found that anytime I did something significantly different the neurological "shock" had a great ripple effect. This is the kind of quick shock workout out you can incorporate into your quads session every 3-4 weeks.
Its easy to fall into the " I must train extra heavy with straight sets at every workout" mentality, after all that's what bodybuilders have been brought up on and been doing for years.
The simple fact is that intensity should always outweigh the weight being used, its that intensity that stimulates growth. Your body can't quite tell whether you are using 5lb or 500lb, what it can tell you is how far you took it.
Below you will see one of my quick fire quad workouts.
PART 1
PART 2
HAVE YOUR SAY
HAVE YOUR SAY!! IF YOU HAVE TRIED THIS WORKOUT OR SOMETHING ALONG THESE LINES PLEASE SHARE YOUR THOUGHTS ON OUR REVIEW FORM.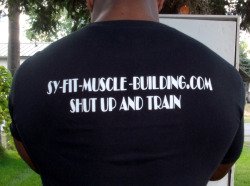 I WANT TO PUSH YOU TO YOUR MUSCLE BUILDING LIMITS...CLICK THE RIGHT PICTURE TO FIND OUT MORE
return from quick quad workout to the gym muscle building main page
---