WELCOME TO THE DOGGCRAPP COMPOUND !!part 1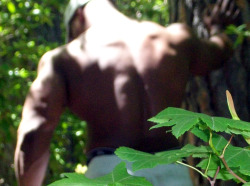 Welcome to my doggcrapp training system journal. This journal is where I record the me vs the dc goings on.Over the past year I have heard many mixed reviews on the forums from those of you who have tried this training system.
It is my second visit to the doggcrapp compound after being introduced to the dc syle by Daz Ball at the begining of 2010.First time round I banged it out for 6 weeks and made some impressive gains both in strength and muscle.
I was told to stay clear of dc style training by my doctor as it would throw some big arse stress on plates and screws in my right arm.( well strickly not true, he told me to stear clear of bodybuilding fullstop, but when he knew his words were falling on death ears he warned me about dc and its impact on the body. This was after a bad car crash nearly put paid to me) I was surprised that my doctor even knew about dc training as he is as thin as a string bean. I promised him that I would take extra care and even stear clear of it...."yer right lol"
The doggcrapp story begins Sunday 6th September 2010 where myself and my wife sit down and map out what we where going to do to set it off in the gym for the next 6-10 weeks. We came up this this nice smelling system as Amber has never tried it, would curiosity kill this cat?
TRAINING SPLIT FOR THE NEXT 15 DAYS
DOGGCRAPP TRAINING CYCLE
MONDAY...CHEST, SHOULDERS, TRICEPS
TUESDAY..BACK, TRAPS, BICEPS,
WEDNESDAY...OFF
THURSDAY...QUADS, HAMS, CALFS
FRIDAY...CHEST, SHOULDERS, TRICEPS
SATURDAY...OFF
SUNDAY...BACK, TRAPS,BICEPS
MONDAY...OFF
TUESDAY...QUADS, HAMS, CALFS
WEDNESDAY...CHEST, SHOULDERS, TRICEPS
THURSDAY...OFF
FRIDAY...BACK, TRAPS, BICEPS
SATURDAY..OFF
SUNDAY..QUADS, HAMS, CALFS
MONDAY...CHEST, SHOULDERS, TRICEPS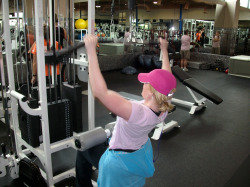 As you can see from our doggcrapp training system that we are training muscle groups every 5 days with the exception of chest on the first spin. This would mean that we would be training chest, shoulders and triceps 4 times in the first 15 days. We also decided not to use this system on leg day as i also carry lower back and hip injuries. Instead we imployed a form of Y3T training (Neil Hill's training system)
not sure how we can do this, cop yourself a quick review of how the system works
MONDAY 6TH SEPT 2010
The first spin (cycle) was all about finding the right everything. The right weight for the dc set, the right rep range, the right warm up and this is where a small note book comes in mighty handy.We both decided to make full use of all the Hammer Strength available to us, plus it made better sence from a safty point of view ( not having Amber having to take the stain of the weights if things went wrong).
Chest...I warmed up on the Hammer Incline, then performed my DOGGCRAPP set using a safe 300lb. On the dc set i hit 8 full reps, rest paused for 10 seconds, hit 5, rest paused for 10 then hit 3 more reps.
Amber...warmed up and dc it at 170 lbs, 8,4,2. then we both hit pec dec for 2 further straight sets.
Shoulders...Hammer Strength Press (me) 270lb 9,4,2
Amber 70lb 9, 5,3 we then moved on to do 2 sets of mid delt raises on the hammer strength machine.
For triceps we hit rope pulldowns for 8 sets doing a "you go,I go" tag team set did we were done.
---
TUESDAY 7TH SEPT 2010
return from my doggcrapp journal part 1 to the gym section