SHOW ME A CALF RAISE LEG PRESS DEMONSTRATION VIDEO
PRIMARY MUSCLE...CALFS
EQUIPMENT NEEDED...LEG PRESS MACHINE
MECHANICS TYPE....ISOLATED
CALF RAISE LEG PRESS TIPS..Great exercise and one to jump on if the standing calf raise machine is taken or out of order.
Step 1. Sit on leg press machine and place your toes at the very bottom part of the foot plate so that your heals are not resting on the plate.
Step 2. Push with toes on the plate to the starting position so that your legs are fully locked.You may place your hands on your knees to help you into the lockout position Leave the safety poles in place when performing this exercise.
Step 3. Now push with your toes as far as you can go, hold for a second or two in the fully extended position, then return to the start of the movement.
---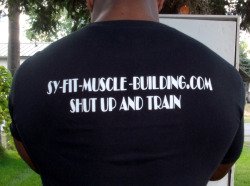 ONLINE MUSCLE BUILDING COACH 100% RESULTS, CLICK RIGHT PICTURE
---
return from calf raise leg press to the exercise demonstration video main page